Since its original inception, the cuttle condo system has changed somewhat.
Please click here for a diagram of the current system.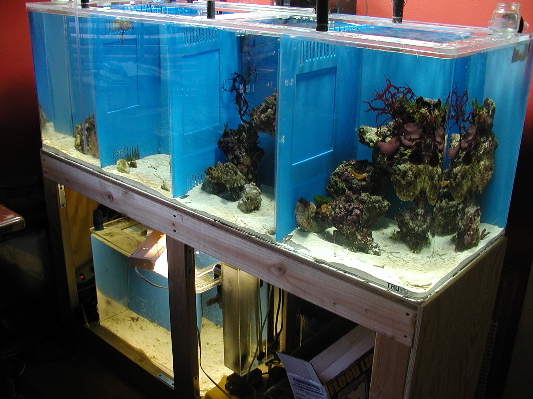 In an effort to breed the cuttles I have I built this cuttle condo. It consists of a 100 gallon tank divided every 15 inches or every 20 inches to create from one to four compartments. I built it this way for two reasons - it will make it easier to breed the cuttles, and if am unsuccessful breeding them or cannot get them anymore I can customize the system for other animals.
There is also an additional 20 gallon in the stand that is plumbed into the sump and can be easily unplumbed from the sump (it has a bak pak skimmer on it) as an emergency hospital or QT.
Currently the tank is divided into four sections and each has its own circulation. From left to right (leftmost section has the overflow): Hagen 201 power head, Magnum 330 (the intake is in the overflow), Aqua clear 300 HOB filter, Mag 7 return.
Each divider has a door that can be removed, and can either be opaque or clear. Opaque if the neighbors are different sizes or the same sex, and clear to let the cuttles get to know each other without being able to hurt each other.
The sump is a 50 gallon containing a Mag 7 as a return pump, a maxi jet 1200 that feeds the 20 gallon tank, heater, filter sock, and Euro Reef CS-2 skimmer. The system is lit by 2 65 watt Lights of America fixtures.
Nursery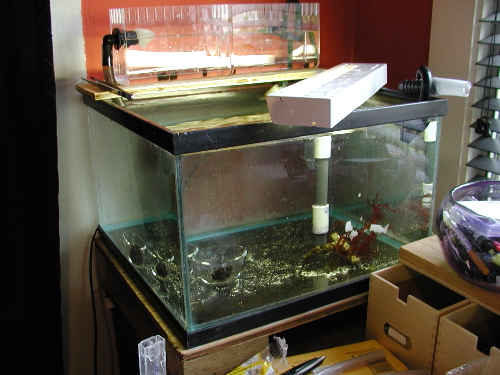 The nursery is plumed into the condo sump, though it is on the other side of the room. The thing on top will either be an incubator or a refugium. In the pic you can see two finger bowls with cuttle eggs!